The Uniting Church is the third largest Christian denomination in Australia. 
We are connected by a single story, worshipping every week in more than 40 languages.
We are a fellowship of reconciliation, living God's love and acting for the common good to build a just and compassionate community.
St. Andrew's Uniting Church Cooma
St. Andrew's Uniting Church is a fine stone building located at 61-63 Soho Street Cooma. It includes a church, porch, vestry and clock/bell tower. It was opened in 1882 as a Presbyterian Church. The west wall includes a beautiful stained glass window, and other features include a timber pulpit, choir, and 623 pound bell. A single manual pipe organ was installed in 1967, while in 1997 the tower clock was replaced and flood lighting of the stained glass window was fitted. More modern features of the church interior include a hearing loop, sound system and digital projector.
The manse is adjacent to the church and is of brick built in 1891. It was extended in complementary style in 1998.
The hall complex was erected in two stages with the foundation stone being laid in 1959. The main hall includes a foyer, kitchen, toilets and showers, and a disabled access toilet. A smaller upper hall, known as the upper room, is suitable for smaller gatherings and meetings. The lower hall is used as the church office and includes a separate minister's office. It is also used for church council, Elders and committee meetings. The hall complex is available for hire to community organisations – it is regularly used by the Snowy Mountains Performing Arts Academy and the Caledonian Society. 
If you would like to enquire about booking the hall please use the "contact us" page on this website or call: (02) 64524292
St. Andrew's Cooma Congregation Activities
Members and friends of St. Andrew's Cooma congregation participate in the following outreach and fellowship activities:
Breakfast Club operates at Cooma Public School 2 mornings per week
Morning tea/coffee is provided at Cooma Court House on court sitting days twice a month
Community rosters for Meals on Wheels and Hospital Trolley
SRE (scripture classes) at primary schools in Cooma, and support of high school ministry at Monaro High
Andy's Café is held monthly for fellowship and entertainment
Barbecue lunch is held after church every three months; and "pot-luck" dinners are arranged occasionally
Ecumenical Men's Breakfast is held on the first Saturday each month in the hall with a speaker
Women's Fellowship group meets on the fourth Wednesday of the month. Cooma Community Garden Group operates on church property adjacent to St. Andrew's hall.
Other activities include family camps, retreats, bus outings, and an annual fete.
For more information on events and services please visit us on: https://cooma.unitingchurch.org.au/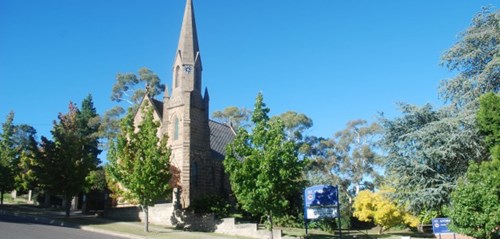 Bombala Uniting Church
A Closure Service was held at the Uniting Church in Maybe Street, Bombala in 2018.
News paper cuttings from 1872, when the first Foundation Stone of the church was laid, were read and a candle was extinguished and taken to Currawarna Residential Care facility to be re-lit as a symbol.
The Bible from early days was shown and later taken to Currawarna Chapel.
The Bombala Uniting Church now meets in the Currawarna Residential Care Facility Chapel at 2.30pm on the third Sunday of the month with a leader from Cooma Uniting. Flyers are displayed at IGA and at the Post Office.
All are welcome.